Shared batch fee: Rs. 29900 ($399 USD)
1 to 1: Rs. 44000 ($599 USD)
On-demand/Offline: Rs. 14950 ($199 USD)
Acquire the skills to make your data protection strategy successful with the Veritas Backup Exec course.
The course is designed for the data protection professional tasked with deploying, configuring, maintaining, and managing a Backup Exec environment.
The course covers Backup Exec concepts, how to back up and restore critical data, configure storage devices and media, and work with various Backup Exec agents and options, which protect applications like Microsoft Exchange, Microsoft SQL, Microsoft 365, Active Directory and Cloud.
Prerequisite
Basic working knowledge of administrating and configuring Windows Server 2016 and later platforms
Networking knowledge is recommended
Syllabus
Please check the syllabus tab above.
☝
This Veritas Backup Exec course covers following topics:
Backup Exec Fundamentals
Licensing Backup Exec
Installing Veritas Backup Exec
Working with the Backup Exec Administration Console
Installing the Backup Exec Remote Administration Console
Backup Exec Storage Devices
Creating a Disk Storage Device Using the Configuration Wizard
Cloud-based Storage Devices
Basics of Cloud storage Support in Backup Exec
Amazon S3 Cloud-based Storage
Google Cloud-based Storage
Network Storage Devices
OpenStorage Devices
Disk and Network Data Management
Data Lifecycle Management
Manually Performing Two Sets of Full and Incremental Backups
Tape Devices and Tape Management
Backing Up Data
Preparing for Backups
Adding a Server
Creating a Backup Job
Backing Up Files and Folders
Creating a One-time Backup Job
Creating a New Backup Job Using the
Settings from an Existing Backup
Backing up Multiple Servers
Backing up System State
Working with Backup Methods
Restoring Data
Disaster Recovery Fundamentals
Simplified Disaster Recovery: Backup
Installing the SDR Disk Creation Wizard
Upgrading Veritas Backup Exec
Your Trainer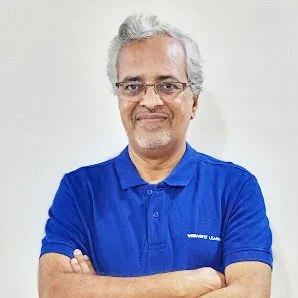 Manoj S. Mahajan
Senior IT trainer, Owner
25+ years experience, Microsoft Certified Trainer (MCT) and VMware Certified Instructor (VCI) with many certifications completed.
View profile...
Student Testimonials