Shared batch fee: Rs. 29900 ($399 USD)
1 to 1: Rs. 44000 ($599 USD)
On-demand/Offline: Rs. 14950 ($199 USD)
Transact-SQL (T-SQL) is Microsoft's proprietary extension to the SQL language that is used with Microsoft SQL Server and Azure SQL Database.
Learn the T-SQL fundamentals in an instructor-led training sessions either in online or classroom mode.
This training will get you started with query processing fundamentals to help you write powerful, performant T-SQL queries. You will also learn to build diagnostic queries using dynamic management views (DMVs) and dynamic management functions (DMFs) to address various challenges in T-SQL execution
Syllabus
Please check the syllabus tab above.
☝
This training syllabus is based on Microsoft Official Course "DP-080T00: Querying Data with Microsoft Transact-SQL" along with additional content.
Introduction to Transact-SQL

Understand what SQL is for
Identify database objects in schemas
Identify SQL statement types
Use the SELECT statement
Work with data types
Handle NULLs
Sort and filter results in T-SQL

Sort your results
Limit the sorted results
Return paged results
Remove duplicates
Filter data with predicates
Combine multiple tables with JOINs in T-SQL

Describe join concepts and syntax
Write queries that use inner and outer joins
Write queries that use cross joins
Write queries that use self joins
Write Subqueries in T-SQL

Understand what subqueries are
Use scalar or multi-valued subqueries
Use self-contained or correlated subqueries
Use built-in functions and GROUP BY in Transact-SQL

Categorize built-in functions
Use scalar functions
Use ranking and rowset functions
Use aggregate functions
Summarize data with GROUP BY
Filter groups with HAVING
Modify data with T-SQL

Insert data into a table
Generate automatic values
Update data in a table
Delete data from a table
Merge data based on multiple tables
Advance SQL server management

Backup and Restore Of Database
Attach and Detach of Database
Normalization
Your Trainer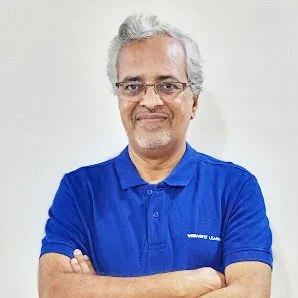 Manoj S. Mahajan
Senior IT trainer, Owner
25+ years experience, Microsoft Certified Trainer (MCT) and VMware Certified Instructor (VCI) with many certifications completed.
View profile...
Student Testimonials