Shared batch: Rs. 7500 ($99 USD)
1 to 1: Rs. 22500 ($299 USD)
On-demand/Offline: Rs. 7500 ($99 USD)
In this training, you'll get the knowledge of core data concepts and related Microsoft Azure data services and be ready to appear the "DP-900: Microsoft Azure Data Fundamentals" exam. This exam is intended for candidates beginning to work with data in the cloud.
This training and certification is an optional prerequisite for Exam DP-203: Azure Data Engineer Associate and Exam DP-300: Azure Database Administrator Associate certification.
Syllabus
Please check the syllabus tab above.
☝
As Microsoft exams are updated periodically, we need to always refer the latest Study guide for "Exam DP-900: Microsoft Azure Data Fundamentals" published by Microsoft. Skills measured:
Describe core data concepts (25–30%)
Identify considerations for relational data on Azure (20–25%)
Describe considerations for working with non-relational data on Azure (15–20%)
Describe an analytics workload on Azure (25–30%)
Click to View "DP-900 Study guide" on Microsoft site
Here are the DP-900: Microsoft Azure Data Fundamentals exam details:
All Microsoft exams are online and available at Pearson VUE exam centers.
Exam price is $99 USD. In India this exam will cost you Rs. 3696 plus taxes (Total Rs. 4361) approx. Worldwide it may vary.
Total exam is of 1000 marks and you need to earn 700 marks to pass the exam.
You will get 45 to 55 questions in an approximate 90 minutes duration.
» Check current exam offers...
Your Trainer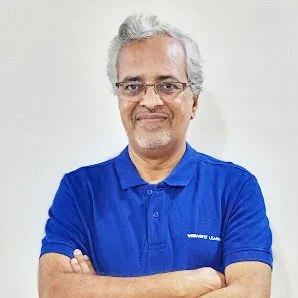 Manoj S. Mahajan
Senior IT trainer, Owner
25+ years experience, Microsoft Certified Trainer (MCT) and VMware Certified Instructor (VCI) with many certifications completed.
View profile...
Student Testimonials