Shared batch fee: Rs. 29900 ($399 USD)
1 to 1: Rs. 44000 ($599 USD)
On-demand/Offline: Rs. 14950 ($199 USD)
At the end of this training you will be a subject matter expert in integrating, transforming, and consolidating data from various structured, unstructured, and streaming data systems into a suitable schema for building analytics solutions.
Learn how to ensure that the operationalization of data pipelines and data stores are high-performing, efficient, organized, and reliable, given a set of business requirements and constraints. At the end, you will help to identify and troubleshoot operational and data quality issues along with designing, implementing, monitoring, and optimizing data platforms to meet the data pipelines.
As a data engineer you'll help stakeholders understand the data through exploration, build and maintain secure and compliant data processing pipelines by using different tools and techniques. You'll use various Azure data services and frameworks to store and produce cleansed and enhanced datasets for analysis.
Prerequisite
Syllabus
Please check the syllabus tab above.
☝
As Microsoft exams are updated periodically, we need to always refer the latest exam study guide for the "DP-300: Administering Microsoft Azure SQL Solutions". Here is the list of topics:
Plan and implement data platform resources (20–25%)
Implement a secure environment (15–20%)
Monitor, configure, and optimize database resources (20–25%)
Configure and manage automation of tasks (15–20%)
Plan and configure a high availability and disaster recovery (HA/DR) environment (20–25%)
Click to View "DP-300 Study guide" on Microsoft site
After completing this training, you can appear the "Microsoft Certified: Azure Database Administrator Associate" certification exam. Here is the exam details for the DP-300 Azure Database Administrator exam:
Exam Code: DP-300: Administering Microsoft Azure SQL Solutions
Level: Associate
Total questions: 55-65 questions
Passing score: 700 / 1000
Cost: 165 USD. In India current Microsoft exam fee is $80 per exam. Worldwide it may vary.
Length: 150 minutes
Recommended Prerequisite Exam: DP-900: Microsoft Data Fundamentals
Your Trainer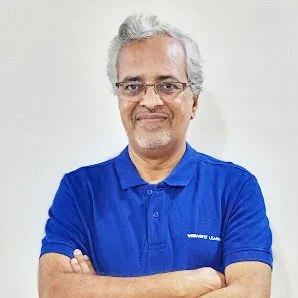 Manoj S. Mahajan
Senior IT trainer, Owner
25+ years experience, Microsoft Certified Trainer (MCT) and VMware Certified Instructor (VCI) with many certifications completed.
View profile...
Student Testimonials