Shared batch fee: Rs. 29900 ($399 USD)
1 to 1: Rs. 44000 ($599 USD)
On-demand/Offline: Rs. 14950 ($199 USD)
Azure Virtual Desktop is a desktop and app virtualization service that runs on the cloud. Here's what you can do when you run Azure Virtual Desktop on Azure: Set up a multi-session Windows 11 or Windows 10 deployment that delivers a full Windows experience with scalability.
At the end of this training, you'll securely deliver virtual desktops and remote apps to any device from a flexible cloud virtual desktop infrastructure (VDI) platform.
Prerequisite
You should have experience with Azure technologies, including virtualization, networking, identity, storage, and resiliency.
Recommended prerequisite: Microsoft Azure Administrator
Syllabus
Please check the syllabus tab above.
☝
As Microsoft exams are updated periodically, we need to always refer the latest exam study guide published by Microsoft. These are the topics from the October 27, 2022 updates:
Plan and implement an Azure Virtual Desktop infrastructure (40–45%)
Plan and implement identity and security (15–20%)
Plan and implement user environments and apps (20–25%)
Monitor and maintain an Azure Virtual Desktop infrastructure (10–15%)
Click to View "AZ-140 Study guide" on Microsoft site
After completing this training, you can appear the "Microsoft Certified: Azure Virtual Desktop Specialty" certification exam:
Exam Code: Exam AZ-140
Level: Specialty
Total questions: 55-65 questions
Passing score: 700 / 1000
Cost: 165 USD. In India current Microsoft exam fee is $80 per exam. Worldwide it may vary.
Length: 100 minutes
Question Type: Multiple choice, Multiple selection, Drag & Drop, Solution Based Case Studies.
Recommended Prerequisite Exam: AZ-104: Microsoft Azure Administrator
View Practice Tests for this exam!
Your Trainer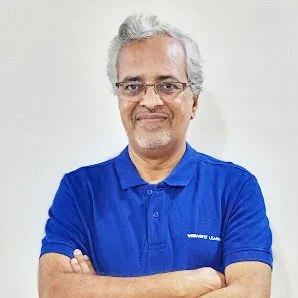 Manoj S. Mahajan
Senior IT trainer, Owner
25+ years experience, Microsoft Certified Trainer (MCT) and VMware Certified Instructor (VCI) with many certifications completed.
View profile...
Student Testimonials